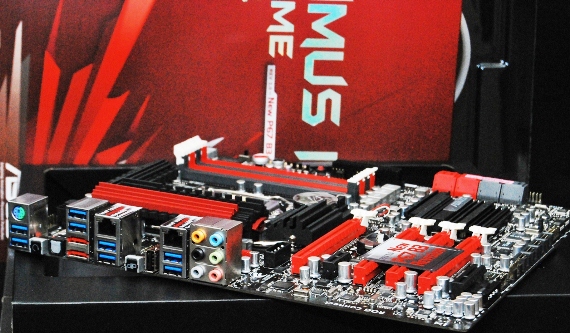 Introdução
A ZWAME tem o prazer de apresentar uma das melhores motherboards de sempre da ASUS no seu segmento, a Maximus IV Extreme para Sandy Bridge.
Esta é uma motherboard de topo de gama construída para um público-alvo de Gamers, não fosse ela uma ROG (Republic of Gamers) e de overclockers extremos.
A ASUS oferece com esta motherboard a excelência da sua tecnologia e engenharia, todas a novidades e a maior performance do mercado.
Construída com as cores que caracterizam os modelos ROG que são o vermelho e preto, apresenta uma qualidade excelente de design e caraterísticas que permitem um excelente overclock e com estabilidade, assim as memórias e os CPU's o permitam.
A capacidade de poder medir as voltagens da motherboard em vários pontos-chave, o interruptor "LN2" que permite usar a motherboard em frio extremo assim evitando alguns problemas conhecidos, nomeadamente o Cold-boot.
A Maximus IV Extreme oferece uma licença de 3DMark® Advantage Advanced Edition e uma licença do famoso anti-vírus Kaspersky®.
Nesta nova série, a ASUS afastou-se do VRM analógico e adotou uma nova solução digital, a nova DIGI + VRM, esta oferece melhor precisão e diminuiu o "delay" da comutação, passamos a ter o controlo da energia através do Windows ou da UEFI.
A ASUS Maximus IV Extreme tem 8 fases de alimentação digital, em conjunto com o recurso EPU que tem a possibilidade se ajustar automaticamente e de poder ser controlado na UEFI ou através do Windows.
Sendo esta uma motherboard de topo de gama, temos expectativas muito altas em relação a ela, vamos ver o que nos reserva.
Especificações
CPU
Intel® Socket 1155 for Intel® 2nd Generation Core™ i7 Processor/Core™ i5 Processor/Core™ i3 Processor/ Support Intel® 32nm CPU,
Supports Intel® Turbo Boost Technology 2.0
Chipset
Intel® P67(B3) Express Chipset
Memory
4 x DIMM, Max. 32 GB, DDR 2200 (O.C.) /2133(O.C.)/1866(O.C.)/1600/1333
Non-ECC,Un-buffered Memory, Dual Channel memory architecture
Expansion Slots
4 x PCIe 2.0 x16 (single @x16, dual @x8, triple @x8, x16, x16 )
1 x PCIe 2.0 x4, 1 x PCIe 2.0 x1
Multi-GPU Support
Support NVIDIA® 3-Way SLI™ / ATI CrossFireX™ Technology
Bluetooth
Bluetooth Module Accessory Card
– Bluetooth V2.0/V2.1+EDR
– RC Bluetooth On/Off Switch
Storage
Intel® P67(B3) Express Chipset
2 xSATA 6.0 Gb/s ports (Red), 4 xSATA 3Gb/s ports (Gray)
Intel® Rapid Storage Technology Support RAID 0,1,5,10
Marvell® 9182 PCIe SATA6Gb/s controller
2 xSATA 6Gb/s ports (Red)
JMicron® 362 controller
2 xExternal SATA 3Gb/s ports at rear (SATA On-the-Go)
* Due to the Windows XP/ Vista limitation, the RAID array with the total capacity over 2TB cannot be set as a boot disk. A RAID array over 2TB can only be set as a data disk only.
LAN
2 x Intel® Gigabit LAN
Áudio
Realtek ALC889 8-Channel High Definition Audio CODEC
– Blu-ray audio layer Content Protection
– Supports Jack-Detection, Multi-streaming, Front Panel Jack-Retasking
– Supports 1 x Optical S/PDIF out port at back I/O
USB
Intel® P67(B3) Express Chipset
– 9 x USB 2.0/1.1 ports (8 ports at mid-board, 1 port at rear is also for ROG connect)
1 x NEC USB3.0 Controller
– 2 x USB 3.0/2.0 ports at rear
1 x NEC USB3.0 Controller with 2 x VIA SuperSpeed USB hub controllers:
– 6 x USB 3.0/2.0 ports at rear
– 2 x USB 3.0/2.0 ports at mid-board for front panel support
Overclocking Features
ROG Connect, RC Bluetooth, ROG iDirect, USB BIOS Flashback
ROG Extreme Engine Digi+
– 8-phase CPU power
– 3-phase Memory power
– ML Cap on CPU only
BIOS Flashback with onboard switch button, ProbeIt, Extreme Tweaker, iROG
Loadline Calibration
ROG OC Kit
– LN2 Mode
– PCIe x16 Lane Switch
– Debug LED
– Q_Reset
EFI BIOS features
– ROG BIOS Print
– GPU.DIMM Post
– CPU Socket Monitor
Intelligent overclocking tools:
– ASUS TurboV Evo
– O.C Profile
Overclocking Protection:
– COP EX (Component Overheat Protection – EX)
– Voltiminder LED
– ASUS C.P.R.(CPU Parameter Recall)
* For using ROG Connect, RC Bluetooth, and ROG iDirect, please refer to Software Compatible List.
Back Panel I/O Ports
1 x PS/2 Keyboard/Mouse Combo port, 2 x External SATA, 2 x LAN(RJ45) port(s)
8 x USB 3.0/2.0, 1 x USB 2.0/1.1 (also for ROG Connect), 1 x S/PDIF Out (Optical)
8 -Channel Audio I/O, 1 x Clr CMOS switch, 1 x ROG Connect On/Off switch
1 x RC Bluetooth switch.
Internal I/O
Connectors1 x USB 3.0/2.0 connector(s) (Red) supports additional 2 USB 3.0 ports
4 x USB 2.0/1.1 connector(s) support additional 8 USB 2.0 ports
4 x SATA 6.0Gb/s connectors (Red)
4 x SATA 3.0Gb/s connectors (Gray), 1 x CPU Fan connector(s), 3 x Chassis Fan connector(s), 1 x Power Fan connector(s), 3 x Optional Fan connector, 1 x Power-on switch, 1 x Reset switch, 1 x S/PDIF Out connector, 1 x 24-pin ATX Power connector
1 x 8-pin ATX 12V Power connector, 1 x Front panel audio connector
1 x System Panel connector, 7 x ProbeIt measurement points,
3 x Thermal sensor connectors, 1 x En/Dis-able Clr CMOS header
2 x EZ Plug connectors (4-pin Molex Power connectors)
1 x RC Bluetooth header, 1 x LN2 Mode switch, 1 x Q_Reset switch, 1 x Go Button
1 x BIOS switch button, 1 x ROG light connector
Form FactorExtended ATX Form Factor, 12 inch x 10.6 inch ( 30.5 cm x 26.9 cm )
ÍNDICE
1. Introdução
2. UEFI
3. Motherboard
4. Motherboard II
5. Software
6. Benchmarks
7. FutureMark
8. Notas adicionais e Conclusão