Temperaturas a Consumos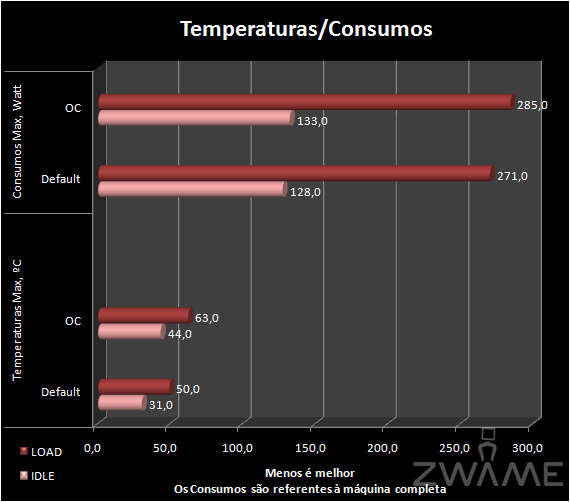 Como podemos observar, temos uma placa de topo gama a gastar pouco e com temperaturas muito boas.
BenchMarks
Hardware Utilizado
Motherboard: ASUS P8Z77-V Deluxe
Placa Gráfica: ASUS Nvidia GTX680
CPU: Intel® Core™ i7-2600K
Disco Rígido: Samsung F3 1Gb
Memórias: 8Gb GEIL Evo Corsa 2133MHz CL9-11-9-28
Fonte de alimentação: Gigabyte ODIN 1200W
Cooler: Noctua NH-D14
Sistema Operativo: Windows 7 Enterprise, cortesia da Microsoft.
O sistema usado, foi o que nos deu mais garantias que aproveitaria mais desta placa recente, conseguimos sem esforço elevar as velocidades de relógio para:
Core: 1213 MHz com 1.050mV
Boost: 1265 MHz
Mems: 1663Hz x 4
Com a sensação que em breve, com alterações a nível de drivers e do software de OC poderemos aumentar ainda mais.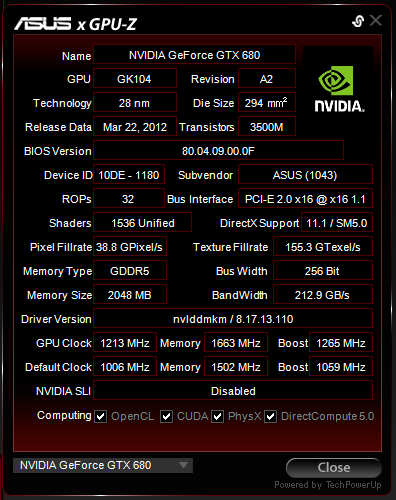 Jogos
Crysis Warhead
AF & AA: Disabled by game's cfg
TEXTURE QUALITY: Gamer
OBJECTS QUALITY: Gamer
SHADOWS QUALITY: Gamer
PHYSICS QUALITY: Gamer
SHADERS QUALITY: Gamer
VOLUMETRIC EFFECTS: Gamer
GAME EFFECTS QUALITY: Gamer
POSTPROCESSING QUALITY: Gamer
PARTICLES QUALITY: Gamer
WATER QUALITY: Gamer
CRYSIS 2
Anti Aliasing: 2x
TEXTURE High Res: ON
API: DX11
EDGE AA: EDGE AA
Far Cry 2
AF & AA: Disabled by game's cfg
FIRE: Very High
PHYSICS: Very High
REAL TREES: Very High
OVERALL QUALITY: Very High
VEGETATION: Very High
SHADING: Very High
TERRAIN: Very High
GEOMETRY: Very High
POST FX: High
TEXTUREZ: Very High
SHADOW: Very High
AMBIENT: High
HDR: Yes
BLOOM: Yes
FIXED TIME STEP: Yes
DISABLE ARTIFICIAL INTELLIGENCE: Yes
Stalker Call of Pripyat
Preset: Medium
Renderer: Enhance full Dynamic lighting (DX11)
MSAA: 4x
MSAA for A-tested objects: Off
Enable Tesselation: Yes
Contact Hardening Shadows: Yes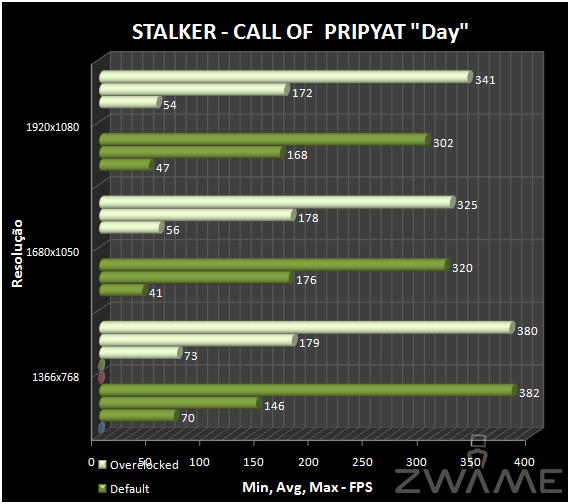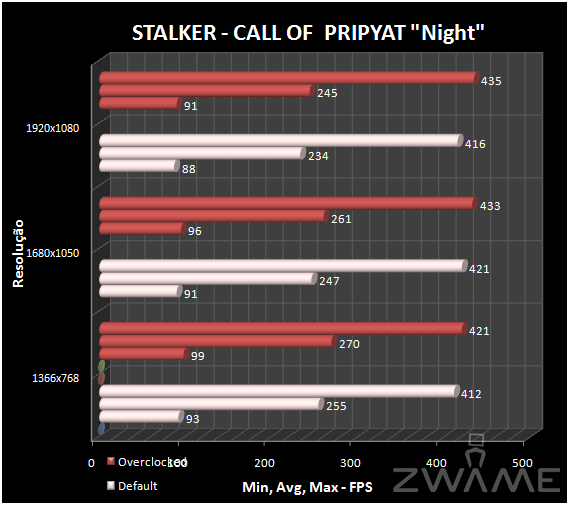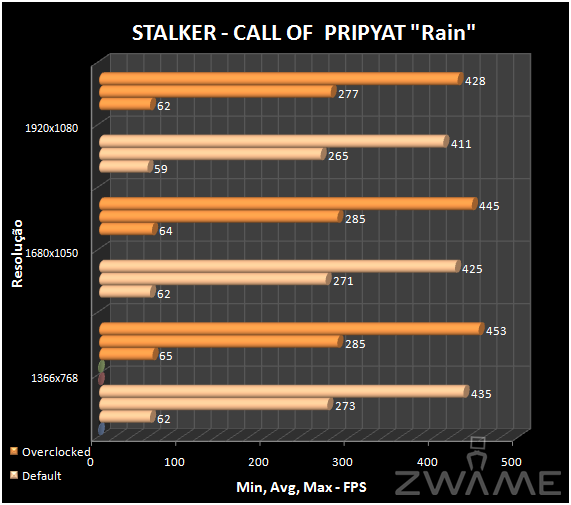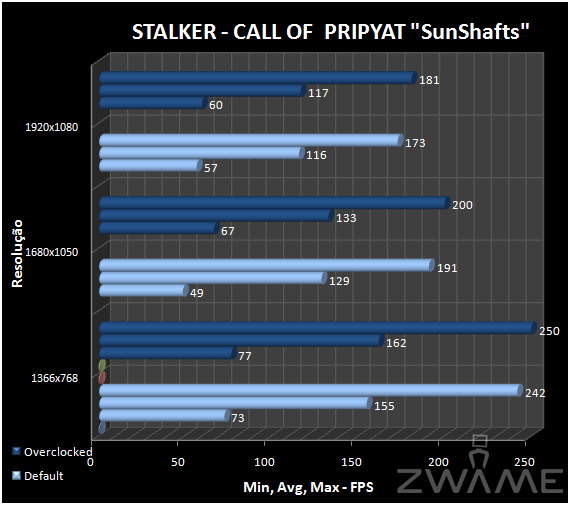 Estes dois últimos jogos foram jogados online e usámos a placa em default, a 1920×1080 @120Hz nas várias qualidades de jogo possíveis, no caso do Battlefield usámos Ultra, High e Medium e no caso do Call Of Duty MW3 usámos Extra, High e Normal.
Seguidamente poderemos observar os gráficos.
Battlefield 3
Graphics Quality: Ultra, High e Medium
Texture Quality: Ultra, High e Medium
Shadow Quality: Ultra, High e Medium
Effects Quality: Ultra, High e Medium
Mesh Quality: Ultra, High e Medium
Terrain Quality: Ultra, High e Medium
Terrain decoration: Ultra, High e Medium
Antialiasing Deferred: 4xMSAA, Off e Off
Antialiasing post: High, High e Medium
Motion Blur: On, On e Off
Anisotropic Filter: 16x, 16x e 4x
Ambient Occlusion: HBAO, HBAO e SSAO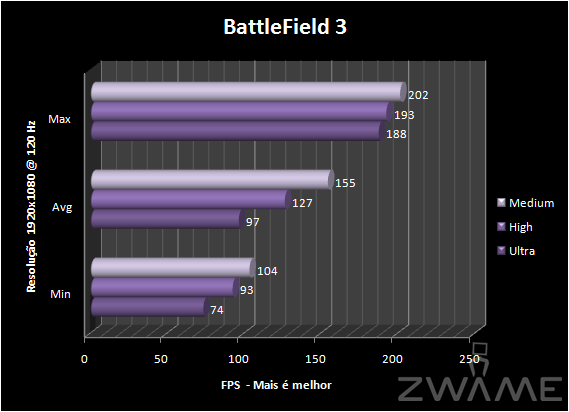 Call Of Duty MW3
Aspect Ratio: Auto
Anti-Aliasing: 4x
Screen Refresh Rate: 120Hz
Shadows: Yes
Specular Map: Yes
Ambient Occlusion: Yes
Soften Smoke Edges: Yes
Bullet Impacts: Yes
Image quality: Extra, High e Normal
Texture quality: Manual
Texture Resolution: Extra, High e Normal
Normal Map Resolution: Extra, High e Normal
Specular Map Resolution: Extra, High e Normal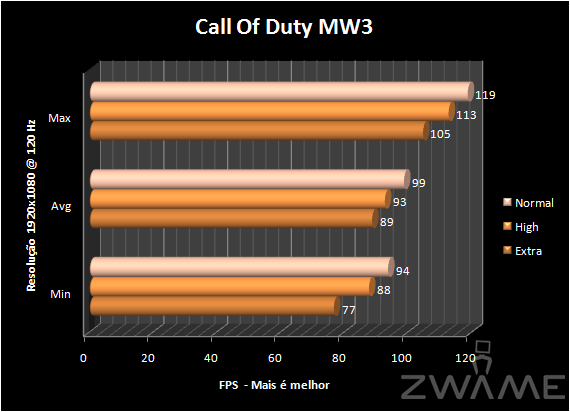 INDICE
1. Apresentação
2. Fotos
3. Software
4. BenchMarks
5. Unigine
6. FutureMark